China is one of the largest electronic scooter manufacturers in the world. This significant rating is not only attributed to the number of e-scooters produced in the country but also their quality compared to those manufactured in other parts of the world. As such, companies that deal in scooter retail and transportation should familiarize themselves with the ins and outs of these devices so that they are better placed to make the right investment decisions.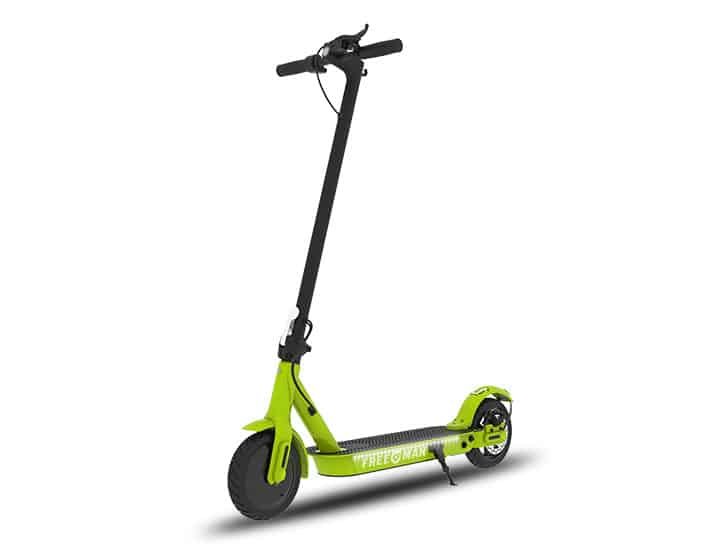 What are Electric Scooters
These scooters are an upgrade to kick scooters that were developed in the 90s. Both models have a pair of wheels, a deck, and handlebars for navigation. These scooters differ due to the presence of a battery, bigger wheels, and electronic features. Most scooters are meant to be steered while standing but some contemporary models come as seated electric scooters with discretionary add-ons.

Scooter popularity and interest has soared over the past few years due to the operation of scooter-sharing companies in major cities. This transportation option has raised awareness of micro-mobility: the transportation of people over short distances with the use of light vehicles which usually ferry one person at a time. It has also resulted in the expansion of the personal market with numerous companies importing various models for commercial use.

Before we dive into the different electric scooter models available, it important to note that there are special makes for kids and adults and they come with different features, just like seated scooters.
• Adult Scooters
These are the most readily available scooters in the market. They are built to withstand large weight capacities of more than 100 Kgs, they have more powerful engines, larger decks and batteries, and a higher stem. They are also relatively pricier than kid scooters. A standard adult scooter is about 30 pounds heavy with a maximum speed of around 15KM/H.
• Kid Scooters

Scooters meant for kids and teenagers are relatively lighter, smaller, and cheaper than adult scooters. Most of them are made of plastic so their durability cannot match that of adult scooters. Their batteries have low energy level batteries so they cannot speed as much. Kid scooters are viewed as play toys, as such, it is not advisable to have kids ride them on highways or busy streets. They weigh up to 20 pounds with a range of about 3 miles.
• Seated Scooters

These scooters are intended for adults and have a seat to provide comfort when one is riding for long distances. Most of them do not come with seats but they have attachments to allow users to install them if they want to. Seats are usually sold as individual scooter accessories.

Present-day scooters are very efficient. They can be folded for easy transportation and storage. That is one of the main reasons why people prefer scooters to electric bicycles. However, having a seat installed does away with its folding capacity.
• Three-Wheeled Scooters

These electric scooters can comfortably support themselves and do not need extra balance. They can withstand impact like hitting a pothole or braking suddenly better than their two-wheeled counterparts. They also provide better stability when cornering.

Although they have several advantages, one might consider them a little inconvenient in heavy traffic. This is because they are wider than regular scooters and as such, cannot maneuver between vehicles with ease. They are relatively big and cannot be stored in small spaces or transported easily even when folded. Three-wheeled scooters are also heavier than those with two-wheeled. One ought to consider the features available for both before picking the one that suits their needs best.
How do I Choose an E-scooter?

The first aspect to consider when shopping for an e-scooter is your demand. Why do you need the vehicle? Before buying a scooter, try figuring out your purpose and needs. Do you need something light and portable? Or do you need a product that's unique or comfortable to ride? For example, most of Switzerland's road coverage is rugged. As such, you'll need an e-scooter with a robust motor power that will allow it to climb steep slopes effortlessly
Subsequently, you can consider more technical aspects like riding distance. Once you've found a scooter that meets your aesthetic and ergonomic needs, you should research its battery and calculate its range (theoretical). Typically, 36V1AH covers about 3km, 48V1AH approx. 4km and 60v 1AH can cover about 5km.
Without a specific purpose in mind, an excellent option would be buying something with a range of about 30 to 50 km. Luckily, you'll find most of the mainstream e-scooters in this category. Even better, they fetch moderate prices and can also serve your short-distance travel needs.
How to find the Best Electric Scooter Suppliers in China?
While it's not a walk in the park, you can find a reliable e-scooter supplier from China using various methods. Firstly, you can identify the manufacturer from which you'd like to buy directly. Secondly, you can find a supplier from online platforms like Alibaba. Thirdly, you can use a professional sourcing agent.
Here's somewhere you can start when looking for an e-scooter online.
Global Sources
Global sources are websites that have become popular marketplaces for all sorts of products, including electric scooters. Several of the most reputablescooter factories from China list their items on Global sources so that buyer companies like you have an easier time finding them. There are hundreds of factories to choose from complete with elaborate pictures and descriptions. Global sources is the perfect way to look for a scooter factory online before you reach out to them and begin trade negotiations.
Alibaba
When it comes to the impact of a company's universal financial value as computed by Brand Financial Rankings, Alibaba is placed at number 10. In addition to its 21 years track record, this eCommerce giant is renowned for its cost-effective ecommerce, retail, and internet products. As a tech giant, Alibaba deals with high-quality products and offers supreme after-sale services. Overall, the countless awards the group has bagged bears testament that Alibaba is a competent and reliable company. The best part about this online marketplace is how convenient is is. You can look for factories at your leisure as you go on with other responsibilities.
Alibaba has a section that displays detailed information about every factory together with reviews from previous clients. You can check them out to see what factories are most preferred by buyers and those whose services are not up to par.
Some buyers even choose to order through this platform instead of contacting the factory directly. Although this may seem like a convenient choice, it would be best if you read the platform's terms and conditions so that you know what options are open to yo if your order is faulty, incomplete or damage. Otherwise, Alibaba is an excellent resource for buyers looking for the best scooter manufacturers in China.
Made in China
Madeinchina.com was founded in 1998 and is run by Focus Technology Co. It is a 3rd party B2B eCommerce platform providing more than 27 categories and 3600 sub-groups of product information. Besides, the website is available in 11 languages. When writing this article, 15,818 results appeared after searching for the term "electronic scooter". This vast assortment of merchandise allows you, the buyer, to have options to compare. It also gives you a broad price range, not to mention that you can find various e-scooter suppliers listed on the website.
What to Consider When Choosing an Electric Scooter Factory
Choosing an electric scooter manufacturer to supply your business may prove to be a daunting task especially if you do not know where to start. Serious thought has to be put into your consideration if you do not want to end up making a fatal decision for your business.

Here are some of the most important aspects to consider when settling on a manufacturer to order from.
1) Factory Service

Do not just take a factory's word regarding factory service. Ensure that a factory follows ISO 9001 quality regulations before you get into business. It is important to ask for assurance about the quality of scooters you are about to order. A factory that checks and rides their scooters shows integrity and commitment toward meeting your quality standards.
2) Communication

The most vital aspect of business is communication. If the buyer and the seller cannot understand each other, the sale is not likely to be a success. That is why you need to choose a factory with a sales team that is more than happy to listen to you and conduct all steps of the sale according to your needs.
3) R & D Ability

Inquire about the factory's Research and Development (R & D) team. A strong, reliable and experienced team will be able to provide original designs that you may be interested in. This also shows that a factory is invested in staying ahead of the industry and meeting all your needs.
4) Overseas Warehouses

It is not easy to trust a factory that is continents away from you. As such, it would be best to go with a factory that have overseas warehouses near you. This way, the factory can easily send you samples and have your order delivered from the nearest warehouse, saving you both time and money.
5) Industry Experience

Always go with a factory that has significant experience in the industry. There is nothing wrong with hiring from a start-up but if you want guaranteed quality and service delivery, you might to consider a factory that has a few years in the game. Years of experience usually translates into better understanding of your needs and even the ability to handle custom orders efficiently.
6) Supply Management

A factory that understands that it cannot be self sufficient and works together with suppliers in the industry to optimize its services should be at the top of your list. You are guaranteed to get affordable solutions for what you want to order and the risks of delay and damage are reduced.
7) Choose the Right Scooter

Getting value for your money should be your number one priority as a retailer. If you buy the cheapest models, the chances are that your customers will not like them and you will be stuck with dead stock. That is the main reason why we outlined each part and the optimal state for it to function effectively. Ensure that the scooters are up to your standard and preferably have it in writing in case what is delivered is different from what you ordered.

It is also advisable to study the terrain of your area and the kind of customers you serve. Areas that have rough roads require powerful scooters so if you buy lightweight ones, you will not be able to meet their needs. Scooters with large battery capacity are the most appropriate if you run a renting service. This will help you avoid replacing them after short periods.
8) Consider the Lead Time

Many business deals go awry because retailers do not consider and confirm the lead time before placing an order. An oversight in this regard can see your business lose out on a lot of sales because your scooters are held up overseas. Avoid such an inconvenience by asking about the lead time beforehand, if it is too long, you can negotiate and have the electric scooter company ship your order with urgency. Either way, do not make any assumptions. You can check the lead time offered by several similar factories to help you choose the most convenient time for you.
9) Warranty

It is important to choose an electric scooter factory that values your business. The best way to establish this is to enquire if they offer warranties for their products and the terms and conditions involved. The warranty should cover a significant number of years and have reasonable conditions. Your goal should be to build long-term relationships with reputable manufacturers. As such, it would be best to steer clear of factories that do not guarantee the quality of their e-scooters.
10) Discounts

Take advantage of scooter manufacturers that offer discounted prices if you order a certain number of bikes, have coupons, or provide free shipping services. Some even take part in the popular Black Friday sales where you can get items for even half the normal price. Each business has reasons why they choose to include or leave out such offers so one should not impose. However, you should choose a factory that suits your financial needs. It is also advisable to make a budget so that you do not spend way more than you anticipated. Instead of compromising your price range, look for a factory that meets your standards of quality and operates within your budget. That way everyone wins.
Final Thought

There is no shortage of good electric scooter factories in China but you have to do due diligence on your part to discern which ones deserve your business and those that don't. We hope that this post has provided the necessary insight for you to make your best choice.